Support in times of crisis
In these challenging economic times, sometimes families need help and guidance. This page provides links to some of the services available to you.
Green Doctor
Green Doctor provide support for Energy Bills. They can help you
Save money on your energy bills
Switch energy providers to save you money
Access Warm Homes Discounts#Apply for grants for energy or water debt
Please see the link below for translation into Somali, Arabic, Urdu, Punjabi and Farsi.
Advice for Renters
Advice4Renters project to tackle financial exclusion in Brent by empowering people to take greater control of their money, improve their financial circumstances, stay on top of their day to day finances and get back on track.
• Dedicated to improving the financial well-being, capability and resilience of the community.
• Providing Community Money Mentors to assist with managing money wisely, budgeting, grant applications, switching utilities etc.
• Providing access to fair financial services through Brent Mutual (part of Hillingdon Credit Union).
• Helping people to save and offering affordable access to credit - particularly for those on a low income.
Money Mentors will support clients to:
• Put together their own realistic budget
• Keep a spending diary - this helps clients to track of day to day spending • Identify areas where the client could reduce spending
• Help clients with price comparisons for broadband, mobile phones and energy bills.
• Help applying for grants (e.g. for utility arrears or essential items) • Help to access follow-on services e.g. debt advice, benefits advice
If you require any further advice regarding Green Doctors or Advice for Renters, please email our Chaplain Mr Roche jroche@ncc.brent.sch.uk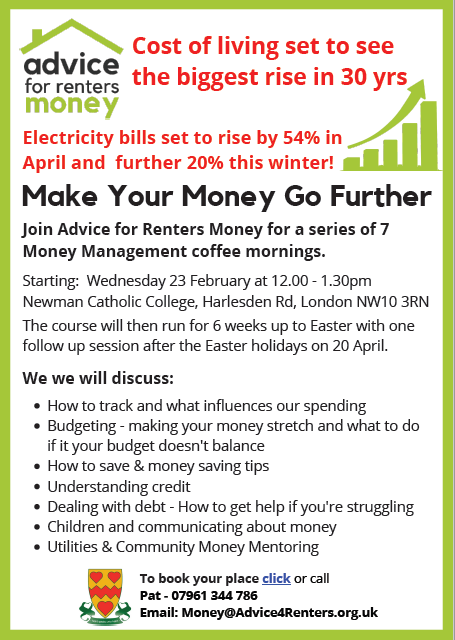 Newman Foodbank
We run a Foodbank every week during term time. This has been supported by Caritas, Wates Construction., Gracelands Yard, Nations Africa Centre and other local businesses. Referrals are made via your child's Head of Year. However if you are struggling and need support, please email Miss Grace sgrace@ncc.brent.sch.uk and we will help you.