Science
Our Aim
To stimulate:
Curiosity, interest and enjoyment of science in pupils lives

Interest in wider scientific endeavours, such as care for the environment and personal health & hygiene.
To develop abilities and skills that:
Are useful to their everyday lives.

Encourage the research, synthesis and presentation of information appropriate for different audiences and purposes.

Develop independent working practices and a sustained work ethic.
To promote awareness that:
Social, economic, technological, ethical and cultural influences are need to be considered. Application of scientific progress may be both beneficial and detrimental to the individual, the wider community and the environment.
To develop core scientific values such as:
Accuracy and precision

Objectivity

Enquiry
Keystage 3 overview – Year 7, Year 8
At NCC students complete a two year key stage three programme of study, following the New KS3 Curriculum using Activate which is designed to develop skills in investigative study and
analysis. Throughout the curriculum we have Math, literacy and working scientifically embedded to enhance performance allowing our students to bridge the gap between KS3 and KS4. We also have Fun facts, activities, quizzes, and questions to engage students and keep them motivated.
Biology
A Level Biology
Biologists are scientists who study the natural world and all the living things in it, from the largest mammals down to our very own microscopic DNA.
They try to understand how animals and organisms work (including us humans), how we evolved and the things that can make us sick or improve our health.
Biologists use this knowledge to do things like try to stop the spread of disease, track down natural resources, improve public health, animal care and conservation and work out the true impacts of things like pollution.
Where do Biologists Work?
Because biologists deal with the natural world, their jobs can take them anywhere, from labs to zoos to ocean liners in the arctic and fieldwork in the Amazon jungle.
What Skills will I get from Studying Biology?
As with the other sciences, Biology helps you to build up research, problem
solving, organisation and analytical skills.
If you study Biology, you will likely find yourself working on group projects,
which will help you build your teamwork and communication skills too.
What Careers can I do with Biology?
Biology is a key subject for lots of STEM careers, particularly in healthcare, medicine and jobs involving plants or animals. The list is pretty long and includes: nursing, dentistry, forensic science, psychology, physiotherapy, botany, environmental science, zoology, geology, oceanography, pharmaceuticals, energy, teaching, science writing, genetics and research.
What Subjects go with Biology?
Biology will support your study of other sciences and Maths as well as subjects like Psychology and Geography. But study it with a language or an
essay subject like English at A-level and you might have even more choices for your career.
What Degrees and other Qualifications do I need Biology for?
Biology is part of that gang of four subjects, which also includes Maths, Physics and Chemistry. You'll often need at least two of these four subjects to get onto lots of different science based courses, so it's a useful all-round choice.
You'll specifically need Biology for courses in medicine, Biology (yes indeed..), Biomedical Sciences, Dentistry, Dietetics (studies in food and nutrition), Physiotherapy, Orthopics (treating eye disorders) and Veterinary Science.
Biology is usually required or recommended for degrees in: Biochemistry, Chemical Engineering, Chemistry, Geology, Environmental Science, Materials Science, Nursing & Midwifery, Occupational Therapy, Optometry, Pharmacy, Sports Science, Psychology and Speech Therapy.
It is also useful for: Anthropology, Psychology, Civil Engineering, Geography, and Teaching.
You may need A-level or BTEC in Biology to take on a higher apprenticeship in healthcare or biological sciences – e.g. researching diseases or biochemistry.
These qualifications are linear. Linear means that students will sit all the AS exams at the end of their AS course and all the A-level exams at the end of their A-level course.
Entry Requirements
Have achieved at least 5 A*- C at GCSE including English and Maths
2 grades B and above in two GCSE Sciences.
Subject content
1- Biological molecules

2- Cells

3- Organisms exchange substances with their environment

4- Genetic information, variation and relationships between organisms

5- Energy transfers in and between organisms (A-level only)

6- Organisms respond to changes in their internal and external environments (A-level only)

7- Genetics, populations, evolution and ecosystems (A-level only)

8- The control of gene expression (A-level only)
AS Assessments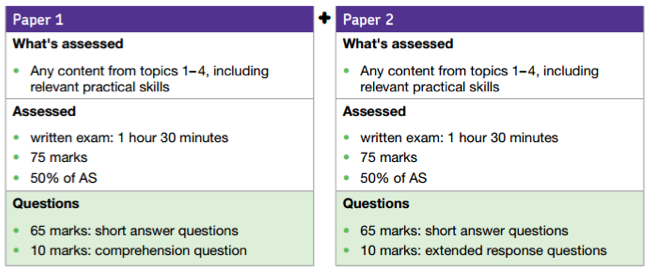 A-Level Assessments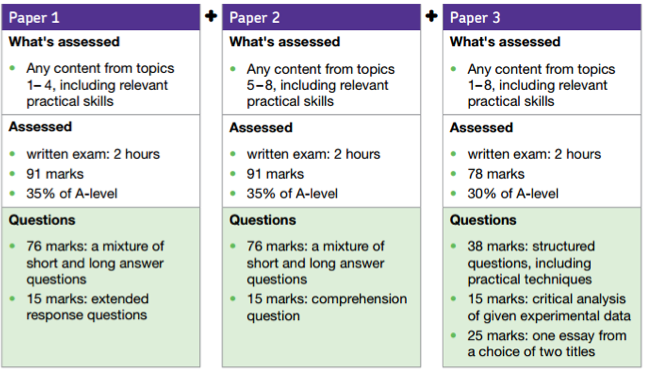 Chemistry

A Level Chemistry
Chemistry is the central science, interfacing with mathematics and physics, biology and medicine and is concerned with all aspects of the physical and chemical properties of matter:
The nature of atoms and molecules,
The determination of their structure and composition and their
reactions
How they can be utilized to produce useful products and materials.
Where do Chemists Work?
Chemists pursue all kinds of careers. Some discover new concepts and laws about matter and the universe; others apply chemistry to a range of industrial and societal needs. They use their problem-solving skills as laboratory practitioners, managers, corporate officers, and entrepreneurs in industrial firms and governmental agencies. Chemists are owners of companies. Chemists teach in high schools, two- and four-year colleges and universities, and corporate training centers. Chemists work for large multinational companies as well as small companies. Some are specialized in their practice of chemistry, while others apply it in an interdisciplinary fashion. Individuals who pursue a chemical education discover that it provides a solid background for careers that can grow and change as the individual changes or as the market place changes. If anything characterizes the career of a chemist, it is change.
What Skills will I get from Studying Chemistry?
All that questioning and experimentation can be really handy when it comes to building a whole range of skills for work.
Chemistry helps you to develop research, problem solving and analytical skills. It helps to you challenge ideas and show how you worked things out through logic and step-by-step reasoning. Chemistry often requires teamwork and communication skills too, which is great for project management.
What Careers is Chemistry Good for?
Chemistry will help you get ahead in most STEM (Science, Technology, Engineering & Maths) careers and more besides.
Chemistry is an important subject for careers in: medicine, environmental science, engineering, toxicology, developing consumer products, metallurgy (studying how metals behave), space exploration, developing perfumes and cosmetics, pharmaceuticals, energy, teaching, science writing, software development and research.
What Subjects does Chemistry go with?
Chemistry will help in your study of other sciences and technical subjects including: Maths, Physics, Biology, Engineering, IT, Psychology, Geography and Geology. But study it alongside a Modern Language or an essay subject like History at A-level and you will have even more options for courses and careers.
What Degrees and other Qualifications do I need Chemistry for?
Chemistry for degrees in Medicine or Geology.
Chemistry is often highly recommended, especially for the life sciences, which study living organisms.
Chemistry is usually required for degree courses in: Biochemistry, Chemistry, Chemical engineering, Dentistry, Dietetics (studies in food and nutrition) Medicine and Pharmacy.
It is often needed or recommended for: Biology, other types of Engineering, Geography, Environmental Sciences, Materials Science, Physiotherapy, Nursing, Sports Science, Psychology, Zoology and Veterinary Science.
Entry Requirements
Have achieved at least 5 A*- C at GCSE including English and Maths
2 grades B and above in two GCSE Sciences.
Subject content
1) Foundation chemistry
2) Chemistry in Action
3) Investigative and Practical skills in AS Chemistry 4) Kinetics, Equilibria and Organic Chemistry
5) Energetics, Redox and Inorganic Chemistry
6) Investigative and Practical skills in A2 Chemistry
AS Assessments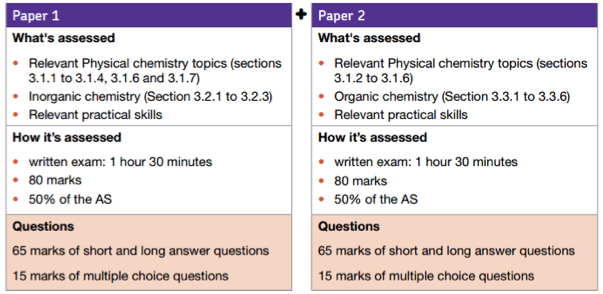 A-Level Assessments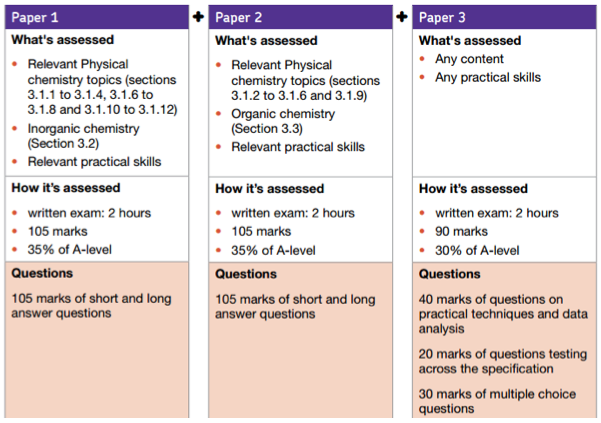 Keystage Four overview
Key stage 4 overview: Year 9 – Year 10 – Year 11
At Key Stage Four, students follow a personalised curriculum, tailored to their individual needs. We study the AQA specification for GCSE and Edexcel specification for the more vocational BTEC qualifications.
Core GCSE Science
Awarding Body: AQA
GCSE Science gives one GCSE in Science and leads on to the Additional Science GCSE to secure a second.
We deliver the first half of GCSE Science in year 9 and cover some of each science discipline, Biology, Chemistry and Physics. In year 10 pupils complete the course or have the option to switch to Btec Science.
The course consists of four units: Biology 25%, Chemistry 25%, Physics 25% and a controlled assessment worth 25%.
Course Content:
Biology: Keeping Healthy, Nerves and Hormones, The Use and Abuse of Drugs, Interdependence and Adaptation, Biomass and Energy in Food Chains, Waste Materials from Plants and Animals, Genetic Variation and its control, Evolution.
Chemistry: The Fundamental Ideas in Chemistry, Limestone and Building Materials, Metals and their uses, Crude Oil and Fuels, Other Useful Substances from Crude Oil, Plant Oils and their Uses, Changes in the Earth and its Atmosphere.
Physics: Transfer of Energy, Energy and Efficiency, the Usefulness of Electrical Appliances, Generating Electricity, Waves and Communication, Expansion of the Universe.
Progression Routes:
This 'core' Science GCSE is followed by Additional Science GCSE, preparation for further study within Science.
GCSE Science is important for future career choices. As one of the most respected subjects, the standard that everyone is aiming for is two good GCSEs in Science.