Music
For all students in Newman Catholic College to participate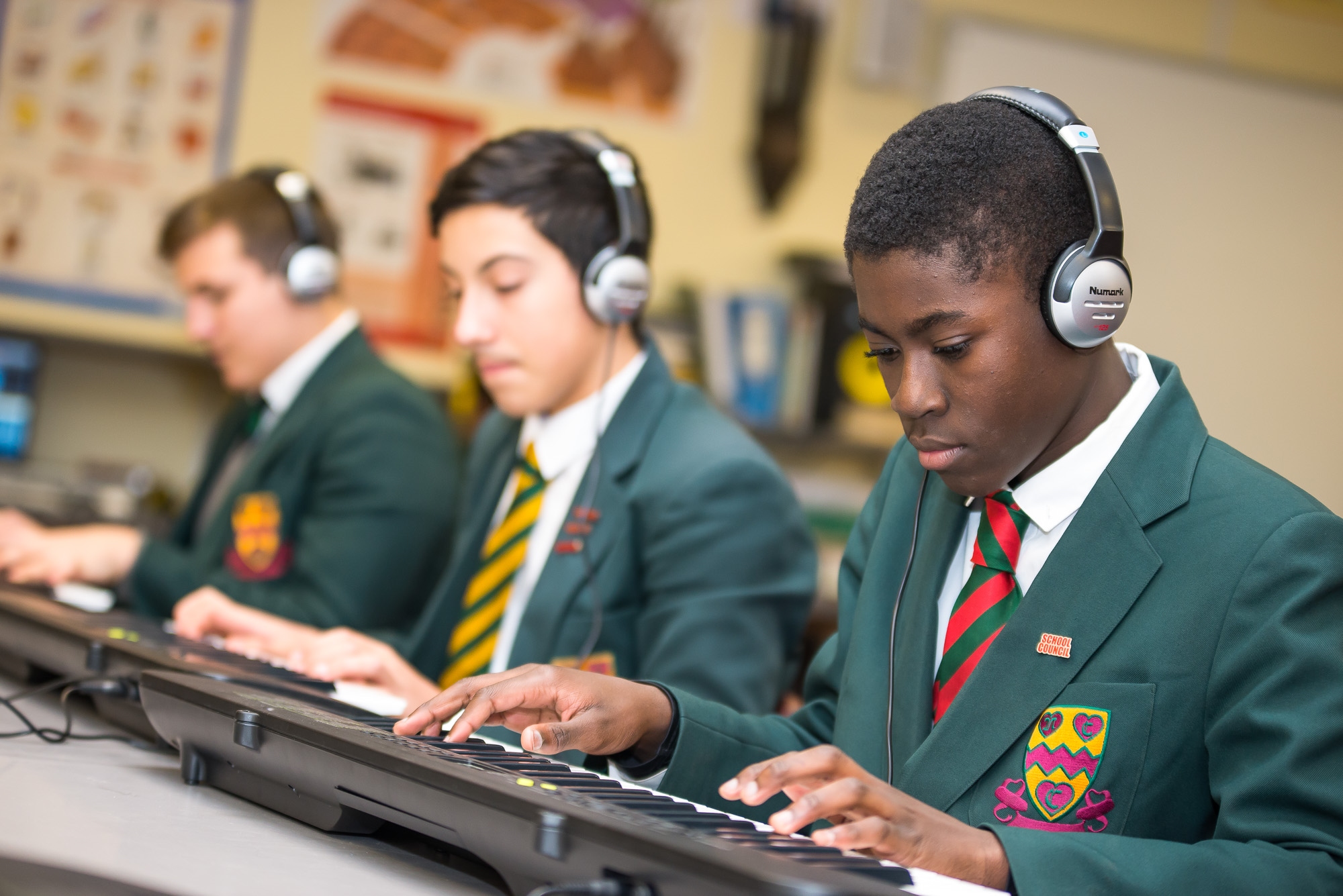 in and enjoy music. For students to gain accreditations in
music including GCSE, B-Tech and ABRSM Grades.
To put on high quality concerts at the end of each term
where students have the opportunity to perform for parents, friends family and members of the local community.
To take part in outreach projects where students perform for other members of society.
Our department aims to provide all students with the opportunity to learn an instrument, and develop musical skills and understanding.
Students will be given the opportunity to sing, perform on a variety of instruments, listen to music critically and also to compose music.
There is an emphasis on singing, basic music theory and performance skills on a variety of instruments including Piano, Guitar and Drums. Listening skills are developed through starter activities and pupil performances/assessments. Composition skills are developed using Logic and GarageBand. Performance opportunities are available at the end of each term and various extracurricular ensembles are available including - Steel Pan Band, Singing groups, Rock Bands, Jazz Band, Brass Band, Percussion group. Music Production club, Keyboard club, Guitar Club, DJ club and MC/Rap group are also available after school.
Year 7 - Large focus on singing and music theory. Piano and guitar units assessed. Test at the end of the year.
Year 8 - Ensemble work is developed alongside singing and theory work. Piano, Guitar and Drum units are taught with some opportunity for composition. End of year test.
Year 9 - Continued work on singing and music theory but with a larger emphasis on developing compositional skills using Logic. End of year test.
Key stage 4 overview - Music is an optional subject at KS4
GCSE and B-Tec courses are available for Music at KS4. B-Tec course focuses on performance, composition, managing a music product and a test on vocational uses of music (each 25%). GCSE has 30% for 2 performances, 30% for 2 compositions and 40% for a theory and listening test.
Year 10
B-Tec - Performance and composition units are completed GCSE - 2 composition and 2 performances completed
Year 11
B-Tec - managing a music product and the revision for the exam GCSE - preperation for the exam
Key Stage 5 overview
A Level music can be offered if numbers are suitable
B-Tec Music is currently running with a focus on performance, composition and music technology skills. The B-Tec is flexible to allow units suitable to the cohort to be taken
Year 12
Performance, music technology topics, ensemble work including; Steel Pan Band, Drum ensemble, Rock Band, Jazz Band, Singing group. Solo performance development
Year 13
Major music project, Aural perception skills, Music and society and development of ensembles and solo performance from year 12
Useful websites for this subject