Music
" Without music , life would be a mistake "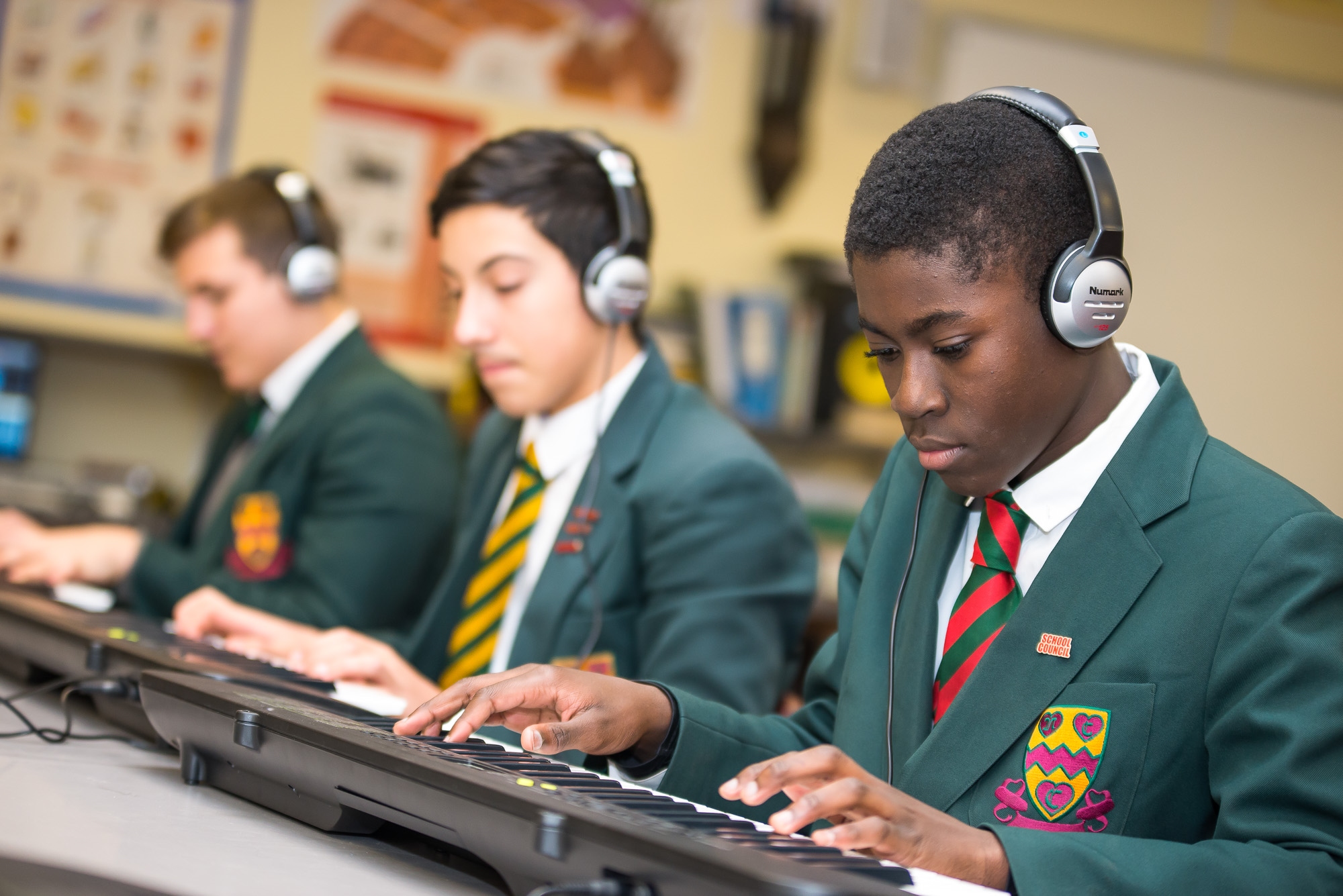 Friedrich Nietzscherticipate
The aim of the Music curriculum is for students to participate in and enjoy music. We aim to promote cultural diversity through studying music of various backgrounds and origins. This is achieved in Key Stage 3 through an analysis of world music in each year group, and progressed through the study of contrasting set works in Key Stage 4. We believe that knowledge of a wide range of music enriches the lives of our young people and not only provides them with some of the cultural capital necessary to engage as successful citizens but also to enable them to enjoy music for its own sake. Moreover, we also recognise that NCC is the one place where most of our students will be able to receive a musical education. We ensure therefore the musical knowledge our pupils receive is beyond that of their lived experience.
Students are encouraged to learn an instrument to aid in their musical journey, as well as completing ABRSM Grades to further their development. There is a large focus on the use of technology as a means to compose music and develop basic piano skills, ensuring music is accessible to students of all levels of musicianship. Group work is greatly encouraged to develop teamwork and bonding skills necessary for progression in later learning and life.
Key Stage 3
The Year 7 curriculum largely consists of the study of the elements of music (harmony, dynamics and so on) to create a foundation of musical knowledge that can be applied to subsequent areas of study. These skills are applied, for example, in the Ukulele topic, whereby they will gain a basic playing knowledge of a musical instrument that largely defines Hawaiian culture, and to promote an accessible precursor to the guitar should students choose to learn it.
Subsequent schemes of learning in Years 8 and 9, such as Samba and African Drumming topics, serve not only to develop knowledge that can be applied to the Key Stage 4 curriculum, but also offer insight to pupils of the variety of cultures in their immediate society. The practical nature of these activities encourages students to cooperate and individualise their learning, recognising the fusion of cultures through the music they produce.
Key Stage 4
The GCSE qualification is split into three components: Performing, Composing and Appraising.
The Performing component requires students to perform two pieces, one solo and one ensemble with other Music students, using a chosen instrument or voice. Pupils will be given opportunities to rehearse and develop their skills over the course of the qualification.
The Composing component requires students to use their musical knowledge to create two compositions, one set to a brief and another to their liking. They will be encouraged to use prior knowledge gained from their Key Stage 3 schemes of learning to create diverse pieces of music that is reflective of their culture and taste.
The Appraising component largely consists of the appraisal of eight set works of various types, ranging from Baroque pieces to music that incorporates a fusion of styles. Students will learn the musical features that defines each piece, utilising knowledge gained during Key Stage 3 in addition to new concepts.
There is an emphasis on singing, basic music theory and performance skills on a variety of instruments including Piano, Guitar and Drums. Listening skills are developed through starter activities and pupil performances/assessments. Composition skills are developed using Logic and GarageBand. Performance opportunities are available at the end of each term and various extracurricular ensembles are available including - Steel Pan Band, Singing groups, Rock Bands, Jazz Band, Brass Band, Percussion group. Music Production club, Keyboard club, Guitar Club, DJ club and MC/Rap group are also available after school.
Year 7 - Large focus on singing and music theory. Piano and guitar units assessed. Test at the end of the year.
Year 8 - Ensemble work is developed alongside singing and theory work. Piano, Guitar and Drum units are taught with some opportunity for composition. End of year test.
Year 9 - Continued work on singing and music theory but with a larger emphasis on developing compositional skills using Logic. End of year test.
Key stage 4 overview - Music is an optional subject at KS4
GCSE and B-Tec courses are available for Music at KS4. B-Tec course focuses on performance, composition, managing a music product and a test on vocational uses of music (each 25%). GCSE has 30% for 2 performances, 30% for 2 compositions and 40% for a theory and listening test.
Year 10
B-Tec - Performance and composition units are completed GCSE - 2 composition and 2 performances completed
Year 11
B-Tec - managing a music product and the revision for the exam GCSE - preperation for the exam
Key Stage 5 overview
A Level music can be offered if numbers are suitable
B-Tec Music is currently running with a focus on performance, composition and music technology skills. The B-Tec is flexible to allow units suitable to the cohort to be taken
Year 12
Performance, music technology topics, ensemble work including; Steel Pan Band, Drum ensemble, Rock Band, Jazz Band, Singing group. Solo performance development
Year 13
Major music project, Aural perception skills, Music and society and development of ensembles and solo performance from year 12
Useful websites for this subject