Design and Technology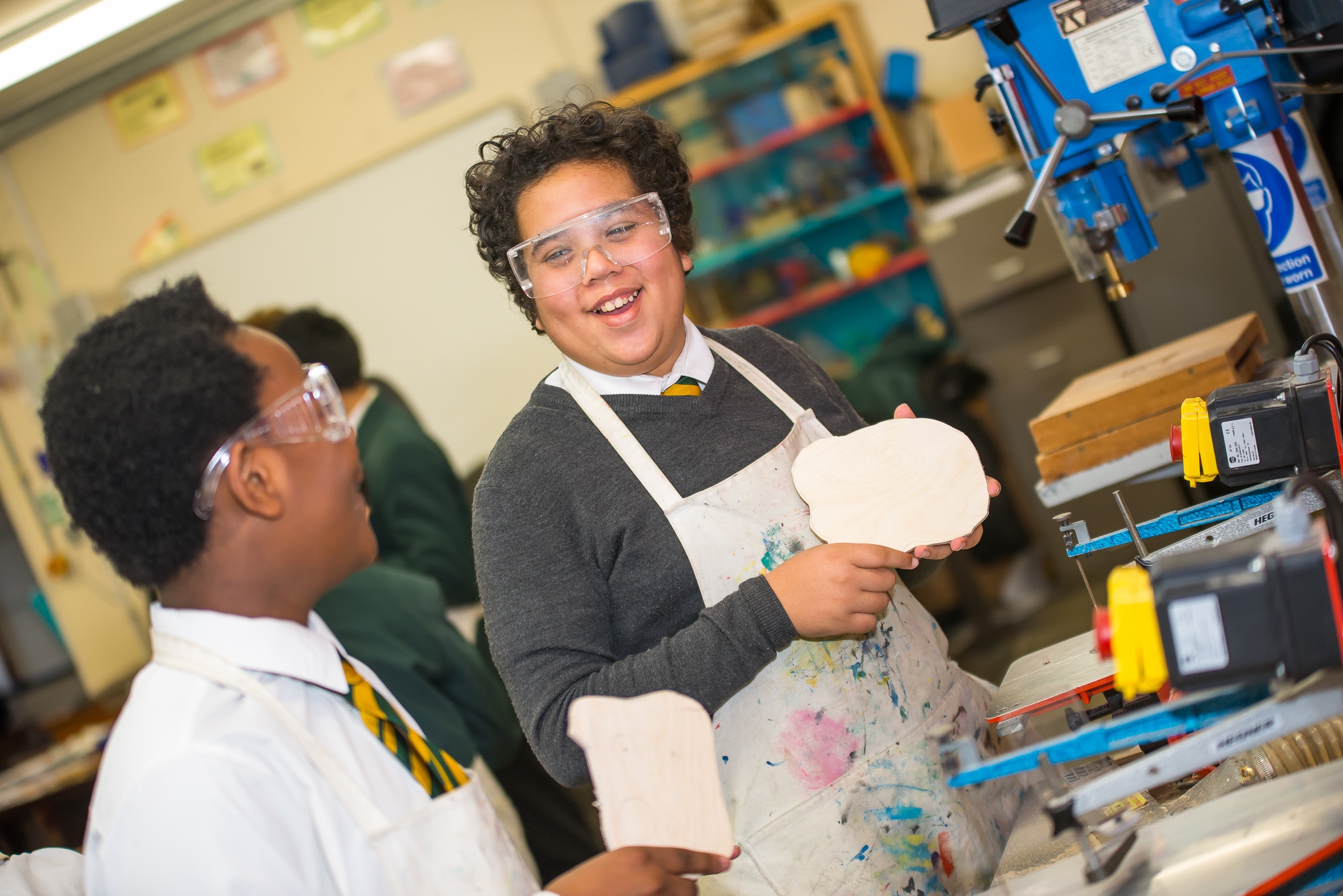 " Good buildings come from good people, and all problems are solved by good design "
Stephen Gardiner
At Newman Catholic College students receive a Design and Technology curriculum which allows them to exercise their creativity through designing and making. The students are taught how to combine their skills with knowledge and understanding in order to produce imaginative and innovative outcomes. We ensure that the knowledge that our pupils receive is beyond their daily, lived experience. Irrespective of the particular discipline within our department we seek to provide the necessary knowledge and skills to enhance the quality of life lived by our pupils. This is central to our intent and general department ethos. It can be witnessed in graphics, resistant materials and catering. Skills are taught progressively to ensure that all students are able to learn and practice in order to develop as they advance through the school. Evaluation is an integral part of the design process which allow students to adapt and improve their products. This is a key skill they need throughout their lives.
Design and Technology enables our students to apply the knowledge and skills learned in other subjects, particularly Maths, Science, Art and Computing. Students will also understand and apply the principles of nutrition and health, thereby becoming competent in a range of cooking techniques. Our whole curriculum is shaped by our school's vision which aims to enable all students regardless of background, ability and additional needs to flourish and become the very best version of themselves.
Key stage 3 overview
Resistant Materials
Students begin by learning to use basic hand tools to cut out shapes from wood or plastic and then use hand finishing and painting techniques to create a successful professional looking outcome. Then they move on to using machinery and CAD/CAM as they become more competent. Each project becomes more creatively and technically challenging as the students' progress towards KS4.
Graphics Products
In Graphics, students begin to explore and experiment with paper construction and imagery, both hand drawn and computer based. They learn the details of colour theory to help them design images that successfully achieve the desired impact. KS3 products are all based on seasonal and cultural events.
Food Technology
In the food room students learn theory mostly based around kitchen safety, hygiene, healthy eating, food safety, special diets, cooking methods and techniques, food miles, food labelling and wise shopping. In practical lessons. They create dishes which teach them knife skills, how to use all parts of the cooker and other common items of kitchen equipment, each dish becomes more challenging as the students' progress.
Year 7
Resistant Materials:- The Door Stopper
Here students begin learning the concept of designing products that fulfil a purpose. I. e. they solve a problem. Students use mostly hand tools to design and make a door stopper. They cut out a shape of a character or object that they have designed and attach a pine wedge where they use the pillar drill and screw driver. They also sand the edges and paint both sides.
Graphic Products: - The Pop Up Card
Students learn paper construction and use colour theory to make a pop up greetings card based on the current season, for example, Christmas, Halloween, and Easter cards, we are a multicultural school so of course students are also encouraged make Ramadan, Vaisakhi and Diwali cards too to name a few.
Food Technology
Students learn about healthy eating via The Eat Well Plate. In their practical's they start by making Dippy Divers (crudités and dip!) in order to learn how to safely use a knife before progressing to make cooked dishes where they are introduced to the oven, gill and hob.
Year 8
Resistant Materials:- The memo holder
In this project the students make a larger scale product where they build on the skills they have learned in year 7 and use a tenon saw and chisel in addition to tools that they have already used. They must demonstrate more advanced painting and finishing skills.
Graphic Products: - The Perfume bottle
Here the students further their creative skills and design a perfume bottle and box based on an imaginary perfume that they have invented themselves. Before they can even think about the packaging, a whole image and lifestyle surrounding their designed scent must be created first. This is when it's starts getting really exciting.
Food Technology
They build on skills learned in YR7 while learning additional skills such as creaming and sauce making. They focus more on food hygiene, health and safety and the Eat Well Plate. Recipes include Macaroni Cheese, Apple Dutch Cake and Focaccia.
Year 9
Resistant Materials:- The Clock
This is a very exciting project where students use a combination of different materials layered together to create a really innovative clock face. Clear Acrylic is the front layer which allows you to see through to the second layer of plywood painted with a student's design. The third layer is to holds the clock mechanism in place and provides stability and strength. The students build upon previous skills with the addition of creating and using templates. More emphasis is based on quality control while being given more creative freedom.
Graphic Products: - The CD cover
Another fantastic project. Students not only design and make their own CD cover. They must create their own band/artist complete with name, music genre and track list. They even create their own image and outfits and take their own promotional band photos. This project allows as much creative freedom as possible. Using all the skills they have previously learned, they combine them all in this versatile project. They also go into greater detail with the finishing using laminating and layering different materials to create different qualities.
Food Technology
In Food Technology students learn further skills such as pastry making, not just shortcrust but Choux and flaky pastry. Emphasis is on creating meals. They build on the eatwell plate and special diets and also learn about where ingredients come from and any ethical issues. They learn the importance of making even basic staples foods fresh and from scratch such as fresh egg pasta so that all ingredients and their sources can be identified. Greater creative freedom is given and students are encouraged to adapt the recipes given and explain their reasons.
Key stage 4 overview
AQA GCSE Resistant Materials.
Students choose a design task from a list to produce a high quality prototype product with an accompanying design folder (60%). They use a range of materials such as wood, plastics and metal, other materials can be ordered specially for specific projects. Students also sit a written exam (40%). The RM and Graphic departments have a range of equipment including hand and machine tools and power tools. Many of our hand tools are of exceptional quality and have been in the department for over thirty years. We also have a CNC router and CAM1 cutter. This range of resources enables students to realise their ideas and achieve their full potential.
AQA GCSE Graphic Products
In Graphics student learn about the different types of Graphic materials and how to use them. They also learn about colour theory, typefaces and finishes in order to design the desired effect of their final outcome. For their GCSE, students also choose a design task from a list to produce a final graphic product prototype, for example, mobile phone casing and packaging, with an accompanying design folder (60%). They also sit a written exam (40%).
WJIC GCSE Hospitality & Catering
For their GCSE, students need to produce two pieces of controlled assessment Task 1 in year 10 and task 2 in year 11 which count towards 60% of their total marks and a written paper worth 40%. The course is mainly geared towards Catering which is based on the Catering industry, practical cooking skills and techniques. Due to current changes in the Food Technology curriculum, the course qualification and content is up for review and may change by Sept 2017. Check back for further details.
Year 10

Resistant Materials:-
Students prepare for their GCSE by perfecting their designing and making skills. They start the year by making set projects such as the spice rack and mechanical toy. The first enables students to practice their joining and finishing methods and the latter stretches their creativity and combines practice in all the manufacturing techniques that they will use in YR11.
Graphics:-
In Graphics, students prepare for their final YR11 GCSE controlled assessment project by doing a practice project based around creating a prototype calculator complete with packaging and a design folder. Here they learn about nets (packaging and box templates), materials, design development, specification, manufacturing techniques, company logos, printing techniques and effects, and environmental issues.
Year 10 Hospitality & Catering
Students research and create dishes based on either Fruit or Vegetables, Dairy or Afternoon tea for their task 1. They must produce written work showing research on the topic and their reasons of choice. They then produce and display four dishes based on their chosen ingredients. This task counts towards 20% of their final GCSE grade. A range of practical skills are taught to gain their confidence in cooking.
Year 11

Resistant Materials:-
For their GCSE controlled assessment (manufactured finished product with design folder). Students choose from three suitable design contexts. They then design and make a product. To obtain maximum marks they must show a variety of making skills including hand, machine and CAD/CAM techniques. Their designs must be creative and original. The design folder must show the design process in detail including a design brief, specification, plenty of research, model making, and an evaluation. Also they must show both hand drawing and CAD drawing.
Graphic Products :-
Students now do a more detailed controlled assessment choosing from this year's two product ideas, making either a prototype mobile phone or a chocolate bar. Both products must of course include packaging, promotional material and a design folder. As with Resistant Materials, students must show the design process in detail including research, health and safety implications, ethical issues, and a range of creative and original ideas before reaching a final design. Running alongside the controlled assessment work all DT students are given practice exam papers in the lessons and as homework. The exam content and revision sessions are also covered in lessons.
Catering and Hospitality:-
Task 2 of the controlled assessment is undertaken in which they prepare and produce a 2 course meal based on International food which will count towards 40% of their GCSE. They must provide written work showing research into recipes and ingredients, consideration for healthy eating, ethical implications and their reasons for the choices that they have made. Maximum marks will be awarding for showing "high skill" techniques such as hand made fresh pasta, meringues and pastry making.
Alongside the Task 2 controlled assessment , theory on catering establishments, safety and Hygiene, nutrition, cooking and presentation, menu planning, catering and the environment and communication and record keeping is done and practice on exam questions and techniques
Useful Websites for this Subject