Community Day Saturday October 7th 2017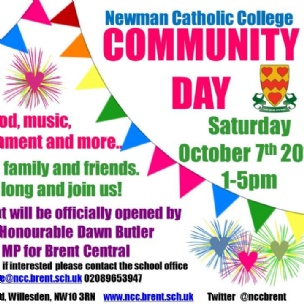 The Newman Catholic College annual Community Day took place on Saturday October 7th. This event was sponsored by Daniel's Estate Agents and is a major fundraising event of our Parents' Association (PTA). This event made us proud to be part of the amazing Newman Family! We had a great Community Day! This would not have been possible without the tireless efforts of Ms Regueira and Miss Grace, the student leaders and PTA members! Thanks to all NCC Staff, Students, Parents and members of the local community who came along to support or gave donations! Once again we had the beautiful Romania display and dancing from Mr Stîncanu and his team, Ms Englishby and her jewellery stall! Ms Bozyczko and Mrs Unwin from our canteen made delicious cakes. We really appreciated the delicious Nigerian food cooked by Emmanuel in Year 8's family. It was wonderful as always to have our local MP Dawn Butler officially open our event. It was also great to see Claudia Hector and Jumbo Chan our local Kensal Green Councillors. Ian from Kensal Green Safer Neighbourhoods Team and Richard our favourite PCSO from Metropolitan Police Service Brent who were providing valuable information on community safety. Thanks our raffle donors The Royal Oak, Rubio, Tesco Harlesden, Drama Queen Hairdressers, My Romania Community, Mrs Fayez (mother of Farid) and Rita Taylor. Your support made it possible! Thank you!
We had a variety of different stalls, food from different countries, sporting activities, music, dance performances, entertainment and more. The event was officially opened by Dawn Butler our local Member of Parliament. Our local Kensal Green Councillors Jumbo Chan and Claudia Hector also came along.