Religious Education Explore London Trip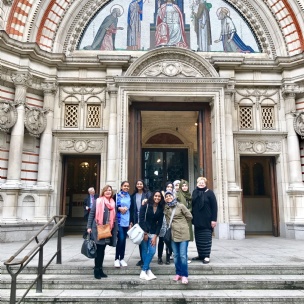 Students from Year 12 Paul, a mixture of Christian, Hindu, Buddhist and Muslims, Miss Beirne Francis and Miss Grace embarked on an exciting Religious adventure to explore London. Our first stop was The Westminster Cathedral of the Precious Blood of Our Lord Jesus Christ. It is the largest Cathedral and the mother church of the Catholic Church in England and Wales. It was designed in the Early Christian Neo Byzantine style by the Victorian architect John Francis Bentley. The foundation stone was laid in 1895 and the building was completed eight years later. The Cathedral contains fine marble-work and mosaics. The fourteen Stations of the Cross, by the sculptor Eric Gill, are world renowned. The Muslim students were fascinated by the similarities of symbolism to Islamic art in the Cathedral.
Our next stop was the East London Mosque. The Mosque has rich a history spanning over 100 years. It is London's oldest Mosque in the heart of the East End. In 1985 the new East London Mosque was completed. This large, purpose-built mosque, complete with dome and minarets, soon became a landmark in London's East End. We had an excellent tour guide Juber who explained to us how to recognise a purpose built mosque. He also explained alot of the history of the Mosque and Islam.
Our final stop on the tour was The Sky Garden at 20 Fenchurch Street. This is a unique public space that spans three storeys and offers 360 degree uninterrupted views across the City of London. We were able to wander around the landscaped gardens, observation decks and take photos on the open air terrace. It was designed by world famous architect Rafael Vinoly, the building is nicknamed the 'Walkie Talkie'.
Student comments
"It was a great chance to know alot about the difference between our religions, and also all the things that gather us as humans. I'm so thankful for this trip." Ghufran
"It was an awesome trip. We visited different places of different religions-church, mosque and Sky Garden. It was the first time in my life I ever visited a mosque. Everything was wonderful and a lovely trip." Marishka
"It was a really great and enjoyable trip. We learnt many things like what the meaning of the mosque is. It was the first time I saw a church and a mosque as well. Best trip ever!" Pantki
"The trip was very good because I learnt plenty of things about religion. The church we went to was like a museum and so huge, that I couldn't believe it. Sky Garden was good too. It was high in the sky and it was my first building in the UK that I went high up in the sky." Romik