Celebrating Black Culture Event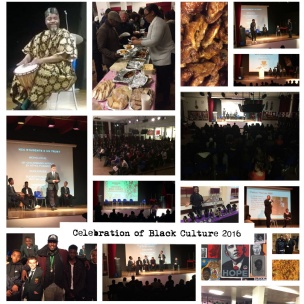 Thankyou to everyone who came along to support our Celebration of Black Culture event. It was a full house, well supported by students, parents, staff and the local community. Everyone who came enjoyed themselves. Congratulations to the students who performed and also came along to support. A big thanks to Davis Williams http://www.loveisjustaverb.com our compare for the evening who kept us entertained. Thanks to Mr Edwards, Head of English and Justin Marosa from The US Charitable Trust http://www.theuscharitabletrust.org/ http://justinmarosa.tumblr.com/ our very talented drama and public speaking coach who prepared the students. Thanks to DJ Bob G Ronald Grossett for the tunes. Thanks to Miss Amado for her poetry reading. We were entertained by the African Drumming from Mr Badru of Miracle Fashions. A huge thankyou to the many amazing committed Newman staff who supported but also helped with making and preparing the food feast we ate. Thanks to our parents, Antoineye Antoineye who showcased her jewellery and the loyal PTA parents. Thanks to Mr Albert for his help behind the scenes and arranging our Community Champion Patrice Thomas to make a guest appearance. The main person who organised this event and deserves recognition is Miss Belinda who did an amazing job.
The evening finished with a feast of food showcasing the culinary delights of Africa and the Caribbean.
Please check out our video which we thank Miss O'Connell for the production of. https://youtu.be/nRlS8774HjI