Community Day 2016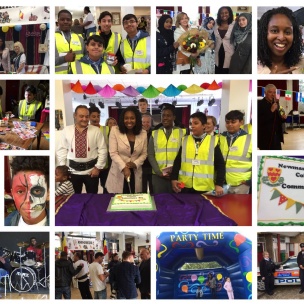 Our Community Day was held on Saturday 1st October 2016.
This annual event was organised by our Parent Association (PTA) with the support of members from our Student Council. Despite the rainy weather, we had a variety of different stalls and a steady flow of visitors. We were also lucky to have two beautiful cakes to cut. One was donated by Bev James and one by the Romanian Community.
Members of our local community and NCC staff came along to support our community on Saturday, bringing their families and friends.
We were very lucky to be sponsored by Daniels Estate Agents Neasden, Tesco Harlesden and Sainsburys Willesden Green.
A number of generous staff donated goods for our raffle and White Elephant Stall. We made £166-47 from these activities. We also appreciated the support of Mrs Fayez and Vogue Hair Salon.
The Romanian Community had the largest and most eye catching stall for the second year in a row.
DJ Bob G kept us entertained with some feel good tunes. Adults and children enjoyed jumping on the Bouncy Castle donated by Daniels Estate Agents.Our canteen staff provided cakes, burgers, tea and coffee etc, whilst Mr Davis cooked jerk chicken. We had sporting activities and musical entertainment from our Year 10 students Joseph, Nathan, Athithyan, Ayoub and Russell.
Our local MP Dawn Butler was as always very supportive of our school and the event, going around the different stalls, mingling with the crowd.
Our local Kensal Green MET Police safer neighbourhood team secured a classic old fashioned police car which they drove down from Hendon.
We also appreciated the support of the Daniel Omari Smith Trust http://www.danielomarismith.org/ and Gracelands Yard http://gracelandsyard.com/