The Gods Are Not to Blame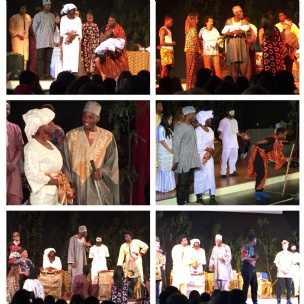 The Level 3 Extended Diploma in Performing Arts students rounded off their time at Newman Catholic College with a full scale production of Nigerian playwright Ola Rotimi's The Gods Are Not to Blame. Rotimi's play is a reimagining of Sophocles Oedipus Rex, set in a traditional Yoruba society.
This was a physically and intellectually demanding piece as it required students to understand and apply ancient Greek theatrical conventions while embodying the vibrancy, energy and humour of Rotimi's text. Yet if any group of young performers were able to take on such a challenge, it was this one.
This is a cohort whose dynamism and zest for life could be felt throughout the school. Amos Ashe gave a virtuoso interpretation of Odewale- Rotimi's Oedipus- a role which this complex play hinged on and a role which was created with a consummate performer in mind. Amos' success is a credit to his natural talent and charisma but also his maturity, dedication and reliability. The production also showcased the skilful ensemble work the Extended Diploma students have achieved over the past two years. Such collaboration is not an easy feat and demonstrates the groups' mutual respect and camaraderie. Each performer delivered moving, funny, engaging and shocking moments and it is impossible to single all these out. It would however be remiss not to mention Jude Dugbazah whose seemingly effortless ability to flip from one multi-layered character to another delighted his audience. There were many occasions where Jude received spontaneous applause- something the majority of West End performers can only imagine. Every student on this course who applied to university this year has comfortably secured a place. We wish them every success and look forward to seeing what they achieve in the next stage of their careers.
Many thanks to Carmel Beirne-Francis for her vital role as a producer, Endy McKay for her dramaturgy, Laura Pool for her choreography, Huss for his acting and support, David Fitch for his lighting design, Hayley Hardy for her make-up artistry and facilitation, Catalina Ginesta-Vazquez for her publicity and enthusiasm for any task big or small and, of course, the Sixth Form supernumeraries whose representation of the citizens of the land set the mood of the piece.
Clare Tetley, Drama Department