Science Museum Trip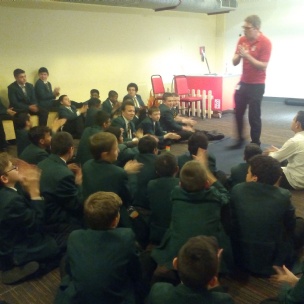 On Wednesday the 15th of June all of the Year 8 students went to the Science Museum.
It was a great opportunity to bring the KS3 curriculum to their daily lives.
They were exploring different parts of the museum and were very excited about it. Most of them were fascinated about how things they study in school are actually very important in the real life. They used their knowledge in Physics, Chemistry and Biology to understand how different models worked. It was very nice to see how they were sharing their knowledge and helping others to understand how things work!
At 12:00 we went to the Studio Room to start "The Rocket Show". The boys enjoyed it a lot. Some of the students and members of staff took part in the show as well. There were some explosions involved in the show and the students were very excited about it! After the show, all of them understood perfectly Newton's three laws of Motion.
As an overall, the trip was a success. The students really enjoyed the museum and they were very engaged at all times. We are all really looking forward to repeating an experience like this one again!