London Citizens Homeless Sleepover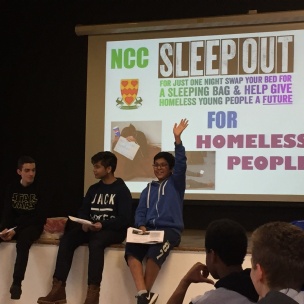 Seventeen Students and Four Staff had a Homeless Sleepover on Friday June 17th to raise money for Crisis Brent as part of our London Citizens action.
On Friday June 17th we had a Homeless Sleepover in the school hall to raise money for Crisis Brent. We were joined for part of the evening by students from West London Citizens, William Perkin School. The students engaged in a quiz, they had a talk about homelessness from Calvin at Crisis Brent and watched the Paddington Bear film as Paddington himself had been homeless. It was a restless night for some of us however, this was an excellent evening and for a well deserved cause. We have raised over £160 for Crisis Brent. Many thanks to the Newman PTA who donated the money for pizza for dinner and Mr Ocran and Mr Kanesh who donated drinks for the sleepover.