Mental Health Awareness Week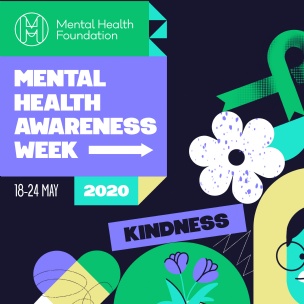 May 18th to 22nd is Mental Health Awareness Week 2020. This is a chance for the UK to focus on mental health. This year's theme is kindness #kindnessmatters. The focus on kindness is a response to the coronavirus outbreak, which is having a big impact on people's mental health. Some people have mental health conditions like depression or anxiety, which means they have feelings that won't go away and which start to really affect day-to-day life.
'One thing we have seen all over the world is that kindness is ... helping people to connect and communities to cope with the impact of the coronavirus pandemic.' Mark Rowland, Chief executive of the Mental Health Foundation
The benefits of kindness are that being kind can significantly improve our physical and emotional wellbeing, whether we are giving or receiving it. There have even been scientific studies into the effects of kindness, showing that acts of kindness help your immune system, reduces stress, gives you energy and are good for your heart.
Recent research conducted by mental health charity YoungMinds, found more than half of parents and carers are concerned about the long-lasting effects the Coronavirus pandemic is having on their children's mental wellbeing. An investigation carried out by the Royal Society for Public Health (RSPH) suggested that young people's mental health is suffering the most during lockdown.
Kindness Video https://www.youtube.com/watch?v=Qcyc68d6OAk
https://www.randomactsofkindness.org/kindness-ideas