A news update from Mr Coyle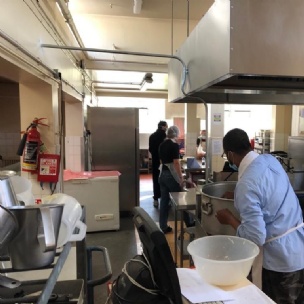 How Newman Catholic College is benefiting from Community Support during the lockdown
The wellbeing of the Newman Catholic College community has been my overriding concern in recent weeks. I am not for a moment dismissing the academic development of our pupils but being aware of the daily struggle of many in the NW10 area is convincing evidence that mental and physical health are paramount. This has always been a key feature of the work of our schools but in recent weeks the perspective has sharpened. Moreover, as a Catholic school serving in a multi faith, impoverished environment we are motivated by the Pope's comment that, "I want a church which is bruised, hurting and dirty because it has been out to the streets, rather than a church which is unhealthy from being confined and clinging to its own security." It is a defining characteristic of NCC that we seek to pursue the "Common Good." The school is marinated in this view. We are a 'UNICEF Rights Respecting school', a 'Refugee welcome school' and a 'School of Sanctuary'.
Newman Catholic College was established as Cardinal Hinsley in 1958. The school served a working class, Catholic demographic of an Irish, Caribbean and West African background. Six decades later, Harlesden has changed. Although we are 55% Catholic the fastest growing groups within the school are of Muslim and Hindu faith. In statistical terms we have 16 / 17 possible ethnic groups on roll. The school aspires to be as inclusive as the environment in which we serve. In terms of the locality Harlesden is a tight knit neighbourhood that is affected by poverty. The IDSR reported in 2020 that the school location deprivation indicator was in quintile 5 (most deprived) of all schools whilst the pupil base is also in quintile 5 of all schools in the UK. One third of families in the NW10 area are classified as living in poverty.
The stories of increased hardship began to emerge at the start of the second week of lockdown. Numerous reports were being relayed of households reduced to one meal a day. Heart-breaking accounts of stress, tension and violence between family members were beginning to stretch our capacity to respond. The account below seeks to describe how the school has been able, by reaching out to others and relying on strong and previously existing partnerships endeavoured to alleviate the worst of the hardship experienced by those in our community. This discourse is in no way intended to single out NCC for any particular praise. I know the narratives discussed below are common to schools across the country. The key point I wish to emphasise is the astonishing efficacy of partnership work and collaboration at this time of heightened misery for so many.
Newman Catholic College has been open every week day since the formal closure of English schools on March 20th. We have hosted between 10-18 pupils every day (including during the Easter holidays). Those attending have been the children of either key workers or the vulnerable. The numbers attending are rising and I expect close to 50 will participate within a week or two. The experience has been rather pleasant. Pupils do school work and engage in cooking activities, sport, art and resistant materials (all socially distanced of course!). Staff have cooked, pizzas ordered and food delivered (see below). It is important to remember that besides the 5 staff who engage in the voluntary rota the rest of the school is taking place online. Hundreds of lessons and extended work are set on Google classroom. Despite the challenges 'both' schools are doing well.
The issues that were coming to our attention and are alluded to above were not new to the school. We were aware of the complexities in the lives of many families. The school has an outstanding safeguarding culture and seeks to offer as much support as possible. For example, we run summer camps every year for our refugee community, alongside a separate one for local boys run by the Metropolitan police and the US Charitable Trust.
https://www.ncc.brent.sch.uk/news/?pid=3&nid=1&storyid=96
These have been running for five years and have received much recognition. In addition, the school delivers food hampers at Christmas to those we know would benefit. It is not surprising to us that the circumstances as they developed from mid-March into April exacerbated many underlying issues as well as opening up new ones.
The situation with Free School Meals has been problematic. In the first place the DfE deserve credit for supporting families over the Easter holidays. However, the company they chose to administer the scheme has struggled to meet the enormous demand. Moreover, many of our families have found it difficult to use the technology. Given this scenario plus the dire need of those not entitled to FSM but nonetheless experiencing difficulty ensured that the provision of food became an urgent priority. It is at this point when the strong bonds that have developed at Newman over the years kicked in and helped us meet some of the needs of our families.
I would like therefore to highlight the work of several organisations that have stepped up and helped. Firstly, the food bank at one of our neighbouring primary schools, John Keble. The Head teacher, Catherine Allard, was a forceful voice early on in the lock down encouraging families from other schools to take what they need: "Just give me their details so I know what to prepare for them," was all she asked. Seven weeks later this is still going strong. It is simple and effective.
Secondly, the US Charitable Trust has supported the school for 7 years. In that time, they have spent an astonishing £595,000 on the pupils and staff. Their activities have been wide ranging and covered "urban survival "programmes, camping trips to the Oxfordshire countryside, the hosting of conferences and activities at school and innumerable opportunities that have allowed staff and pupils to develop their cultural capital through trips to the theatre, galleries and museums. As the crisis developed the Trust were able become a referral agency for Children in need and thus seek to provide immediate response. They have also been highly creative in providing yoga classes and online educational provision for our pupils forced to stay at home during the lock down. Their constant communication through the student advisory body has kept vital links alive.
To date Caritas Westminster has spent £31,000 supporting families in Westminster diocese alone. This outstanding organisation, whose mission is "to serve the poor and promote charity and justice throughout the world," has provided immense support for Newman over the years. They have aided us financially and are the backbone of the refugee summer camps. As the lockdown entered the Easter holidays they stepped forward once more providing money, vouchers and food for the children of this area. The message to me was clear, "let us know what you need and we will try to help." Caritas are making a difference across the country. It is of course important to recognise that Caritas are only able to support those in need through fundraising activities of their own.
Closely allied to Caritas is the Roman Catholic Diocese of Westminster. Individuals from the diocese have been proactive in ensuring that the underprivileged pupils of this school do not go hungry. We have had money and food parcels which have gone to vulnerable families. Like Caritas they have supported our summer school programmes and are always looking for ways to support the vision. They are working with us to ensure that the 2020 Met police / US Trust summer camp is the best ever and are engaged in trying to find funds to achieve a long term school goal, providing a hot evening meal for 150 pupils each evening. Not only do organisations like Caritas and the Diocese of Westminster help provide immediate practical support, they are also able to utilise their network of contacts to create leverage for further support. This leads me to Fareshare and the incredible, Community Response Kitchen
It was the regional representative of Caritas, Sister Silvana that highlighted the work of FareShare. I signed up and within a week was collecting fresh food every Wednesday morning at a branch of Tesco's in West London for distribution amongst the families of Harlesden. Furthermore, it was phone call from Westminster diocese that alerted the school to a major food donation at Octavia House in Ladbroke Grove that enabled us to pass this on to the Community Response Kitchen. The kitchen is based in North Brent. The individuals involved in this charity have been together for seven weeks and are currently producing 2500 meals a day. Recipients of this free food span several London boroughs and include hospitals, care homes and hospices. Newman pupils, families and often the wider community are also being provided for on a seven day a week basis. Thus, My Romania Community, Sacred Heart Church in Kilburn and Queens Park Community School receive daily deliveries via NCC once we have collected from their kitchen. When I visited on 24th April my first impression was of the amazing degree of organisation as volunteers, largely of Indian heritage, were separated into different areas of production and logistics. The car park requires rubber matting as the number of vehicles collecting readymade meals or dropping off food donations is constant. I know from my conversations with Daksha Versani who leads the Community Response Kitchen that they are seeking "GoFundMe" support in order to maintain this service to our community. I would urge you to support her initiative. ( https://www.gofundme.com/f/help-us-make-200000-meals-in-100-days). Further evidence as to the universal advantage of positive community relations was the relationship that developed through Daksha Varsani's contacts and led to Ealing Community Aid using the facilities at NCC to cook for the local Muslim population during the Ramadan period. You will be pleased to learn that the pupils of our school also enjoyed the excellent food prepared by a team of volunteer chefs.
There have been challenges in the last 7 weeks of lockdown. Often the logistics failed and fleet footed alternatives were necessary. We now however have a smooth system to ensure that all those who need food are not left hungry. We are fortunate that those who have supported us thus far are driven by a shared vision and determination that families will not suffer as a result of their social or economic condition. The moral imperative to support the poor is, because of the daily initiatives of those described above, and a clear eyed determination of all partners, alive and kicking in NW10.
Mr D P Coyle
Images from the wonderful volunteers of the Community Response Kitchen and the NCC based Ealing Community Aid