May Procession at the Shrine of Our Lady of Willesden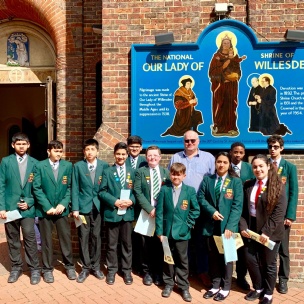 We joined hundreds of other pilgrims praying the Rosary in procession, giving witness to our Faith, our love for Mary, and our intercession for our city and country at this time
Our Lady of Willesden Procession
A sun blessed Sunday afternoon, 12th May at 3:30pm a group of students and staff from Newman Catholic College gathered at Our Lady of Willesden church on Nicoll Road, Harlesden, NW10 for the Marian Procession, Mary, patroness of the parish, around the busy streets, cris-crossing through the daily lives of the locals on an afternoon of pilgrimage and witness. The procession snaked it's way in prayer and song all the way to the courtyard of the Convent of Jesus and Mary Language College.
The students were splendidly turned out in their uniform to walk together following the statue of Mary, our Lady of Walsingham and before the statue of Our Lady of Willesden. Hundreds turned out from the parish for the love of Mary and asking for her to intercede for London and the country.
The pupils enjoyed the afternoon and were learning more about traditions and customs of the Catholic faith over the centuries. This was a first for some.
Upon arriving at the convent ground we took our places around the dias and listened to bible readings followed by a memorial speech by Fr. Martin Plunkett about Mary. The procession moved on back down Park Parade along Harlesden High St back to the church for mass and private devotions.