Youth Travel Ambassadors win £250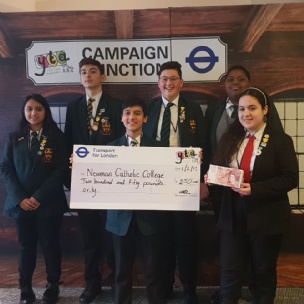 We are very concerned about Road Safety here at Newman. Our Youth Travel Ambassadors took part in the Brent Campaign Junction. They had to deliver their pitch to judges and an audience. Their focus was on being active, walking instead of catching the bus but avoiding distractions. They looked at the Mayor of London's Transport Strategy...All deaths and serious injuries from road collisions to be eliminated from London's streets by 2041. By 2041, all Londoners do at least the 20 minutes of active travel each day.
The students delivered an 'Active Travel Assembly' to each Year group. As part of their Drop Down days they took part in a Road Safety Obstacle course.
They will use their winnings for Road Safety promotion with Car stickers and 'Stop the small stops' keyrings.